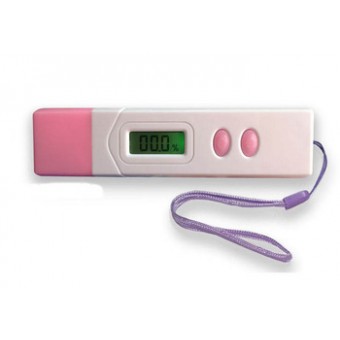 Availability:

In Stock

Product Code:

Inmazing
Description
This digital skin condition monitor can detect conditions in terms of moisture level, oil level, softness and roughness level immediately and automatically. The test results are displayed on the LCD screen with convenient graphical illustration and description. This device is a great tool assisting your daily beauty care and beauty treatment.
Care and maintenance
1, to keep equipment clean
2 Do not dismantle the instrument
3. do not deposit at a high temperature , humidity , and other environmental harmful gas
4. with a complete load the box ; If the instrument is not used for a long time , please remove the battery storage
5. prohibit immersed in water and other liquids instrument ; ban acid liquid , wipe the instrument
The main parameters
1 , temperature : 5 ~ 40 Celsius, relative humidity of 70 % or less
2, measuring range : 0 to 99.9% moisture , oil 0% to 99.99%
3 Dimensions : 130mm X 35mm X 23mm
4 , weight : 50g
Oil reference rate
6% to 18% : partial dry skin. Tips: basic balance of water and oil , keep .
19% to 30% : General skin. Tips: Note that the selection and application of skin care products , skin care refers to the oil and when oil supplements are different . Full complement can be highly moisturizing oil, equivalent to conditioning the skin condition. Skin care products use small molecules , absorb quickly products, or oil products to less control of the oil in the skin .
31% to 45% : oily skin. Tips: oil , water is the key to dealing with the most critical areas of skin not fat suppression , but it forms a virtuous circle. Removal of sebum on the same day the newly formed skin will not be garbage accumulated sebum , causing the skin to become " sandpaper ." The appearance of the skin tone issues should be inside and outside , choose fresh food , eat more fruits and vegetables.
Reviews (0)
Write a review
Note: HTML is not translated!
Continue